Inaugural Symposium, TCHoU

 March 26 - 27 (Mon - Tue), 2018



The inaugural symposium of the Tomonaga Center of the History of the Universe (TCHoU), University of Tsukuba, will be held on March 26 and 27, 2018,
on the university campus.

See below for more details.

We are looking forward to seeing many participants interested in the research in the areas of elementary particles, nuclear physics, astrophysics, and the history of the universe as a whole.

Registration :  Please register on-line from this page   (Deadline: Monday, March 12, 2018)


List of registrants

---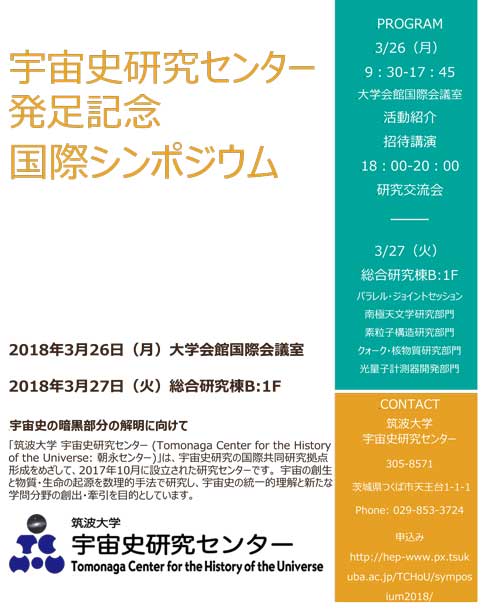 | | |
| --- | --- |
| Date 日時: | March 26 (Mon) and 27 (Tue), 2018 |
| Venue 会場: | University of Tsukuba  筑波大学 |
| | Day 1: University Hall, International Conference Room |
| | Day 2: Laboratory of Advanced Studies, B |
| | |
Access to the University
交通案内
Bus route map (pdf)     バス路線図 (pdf)

 The closest bus stops are "Daigaku Kaikan Mae" (Day 1) and "Dai-Ichi Area Mae" (Day 2), respectively.



Structure / Program :
Day 1: Plenary Session

International Conference Room, University Hall - Google map - Campus map (M-6)



Talks by invited speakers, division heads.

Day-1 Program:  pdf  (as of 2018/02/21)


Photos: presentations - reception


Invited speakers:



George W.S. Hou (National Taiwan University, Taiwan)

   Higgs, a second Higgs, and where it may lead us


Soo-Bong Kim (Seoul National University, Korea)

   Reactor Neutrino Physics and Prospect


Boonrucksar Soonthornthum (National Astronomical Research Institute of Thailand, and Ministry of Science and Technology, Thailand)

   The status of astronomical development and key research areas on Antarctic Astronomy in Thailand


Nu Xu (LBNL, USA / Central China Normal University, China)

   Search for the QCD Critical Point in High-Energy Nuclear Collisions


Shunji Nishimura (RIKEN, Japan)

   Origin of Heavy Elements in the Universe: r-Process Nucleosynthesis


Yasuo Arai (KEK, Japan)

   SOI Pixel Detector ー looking into History of Universe




Day 2: Parallel/Joint Sessions

Rooms 0107, 0108, 0110, 0112-1, Laboratory of Advanced Research B (総合研究棟B) - Google map - campus map (J-6)
The building looks like this if you are at the bus stop.


Registration :  Please register on-line from this page
List of registrants
---

Contact: 305 - 8571 茨城県つくば市天王台 1-1-1
Tomonaga Center for the History of the Universe
Faculty of Pure and Applied Sciences,
University of Tsukuba
TEL: 029-853-3724



---